Click here if you are having trouble viewing this message.
Innovative Research in Science & Nature
CAMECA Newsletter - Summer 2021
Welcome to the Summer 21 issue of our Science & Nature newsletter. Soil science, photovoltaïcs, fuel cells, drug discovery, and more: as usual, our selection of high impact articles, application notes and customer success stories spans a wide range of research fields. 
Last but not least, our short IMS 7f-Auto video (link at the bottom) introduces you to the easy operation of the most versatile - and popular - Dynamic SIMS tool!
SOIL SCIENCE 
Greenhouse gas emissions from permafrost thawing is an issue of global concern. High resolution NanoSIMS analysis of carbon and iron interaction across a thaw gradient provides better understanding of the role of iron minerals in the prevention of carbon mobilization. 
NanoSIMS 50L data collected at TU München, Germany.
Iron mineral dissolution releases iron and associated organic carbon during permafrost thaw. Patzner et al. Nature Communications 11:6329 (2020)
PHOTOVOLTAICS 
Alloys of Cu(In,Ga)(S,Se)2 (CIGS) are becoming increasingly important for future photovoltaic cells. During manufacturing, exposure of the absorber surface to chemical etchants before buffer deposition influences the device's optoelectronic properties. SIMS analyses confirm the hypothesis of defect induced etch acceleration, showing that stoichiometric CIS (black) yields the smallest compositional change upon KCN  etching.
Data obtained on SC Ultra at Luxembourg Institute of Science and Technology.
Chemical instability at chalcogenide surfaces impacts chalcopyrite devices well beyond the surface. Colombara et al. Nature Communications 11:3634 (2020)
Other High Index Journals
BIOGEOCHEMISTRY 
An international team of geochemists and environmental microbiologists analyzed mineral samples from multiple underground sites in Scandinavia using Large-Geometry SIMS. C isotopic signatures of calcite indicate microbial methanogenis while S isotope variability in pyrite suggests bacterial sulfate reduction. Combined with data from other techniques, results suggest that microbes have been active in the continental igneous crust over geological timescales, and that subsurface investigations may be valuable in the search for extra-terrestrial life. 
Analyses conducted on IMS 1280 at NordSIMS lab, Stockholm, Sweden.
Biosignatures of ancient microbial life are present across the igneous crust of the Fennoscandian shield. Drake et al., Nature Earth & Environment 2:101 (2021)
NUCLEAR  
Shielded EPMA was key to a recent study on fourth generation reactors. High precision quantitative analysis of the fuel, the fuel-cladding interface and the fission products were performed after simulation of a reactor overpower transient in order to assess fuel performance. 
Analyses conducted on SX 100-R at Idaho National Lab, USA.
Investigation of fuel microstructure at the top of a metallic fuel pin after a reactor overpower transient.  Di Lemma et al. Journal of Nuclear Materials. 544:152711 (2021)
FUEL CELLS 
Understanding the proton transport behavior in Yttria-stabilized zirconia is key to improving the efficiency and the durability of solid oxide fuel cells. As a measure of proton solubility, researchers quantified deuteron concentrations using CAMECA SIMS which provides excellent detection sensitivity for H and its isotopes along with superior depth profiling capabilities. The novel method is also applicable to the analysis of other oxides. 
Analyses conducted on IMS 7f at AIST, Japan.
Quantitative analysis of proton solubility in YSZ using SIMS. Yamaguchi et al., Solid State Ionics 354:2115414 (2020)
METALS & ALLOYS  
The powerful spatial and chemical resolution of atom probe tomography technology enabled precise quantification of the elemental partitioning of nano-structured precipitation-hardened high entropy alloys (HEA). 
Data obtained on LEAP 5000 XR.
Elemental partitioning as a route to design precipitation-hardened high entropy alloys.He et al. Journal of Materials Science & Technology 72:52-60 (2021)
Application Notes, Success Stories, Video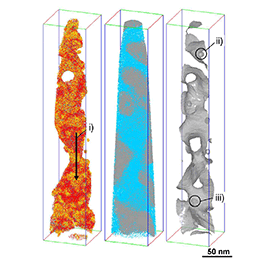 Atom Probe Tomography of Solid Oxide Fuel Cells.
APT provides a better understanding of the the high temperature oxide materials and connecting materials (specialty steels) used to chain cells together.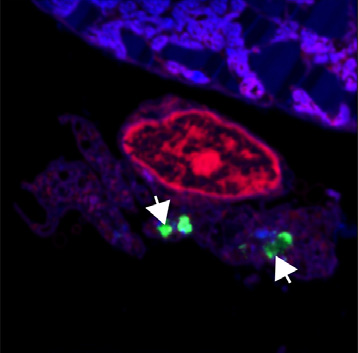 Probing Novel Therapeutics with NanoSIMS at UWA.
Capable of tracking molecular fluxes throughout subcellular compartments in brain, heart, etc, NanoSIMS is key to understanding cellular uptake and distribution of drug in tissues — which is critical for precise targeting.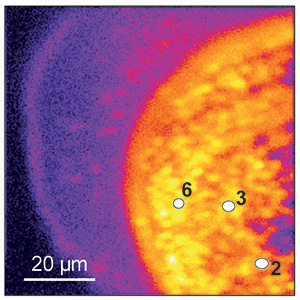 Digging deep into geochronology with SIMS at NordSIMS. 
Taking advantage of the CAMECA Large-Geometry ion microprobe's superior scanning ion image capabilities, Prof. Martin Whitehouse developed a novel methodology for U-Th-Pb mineral dating.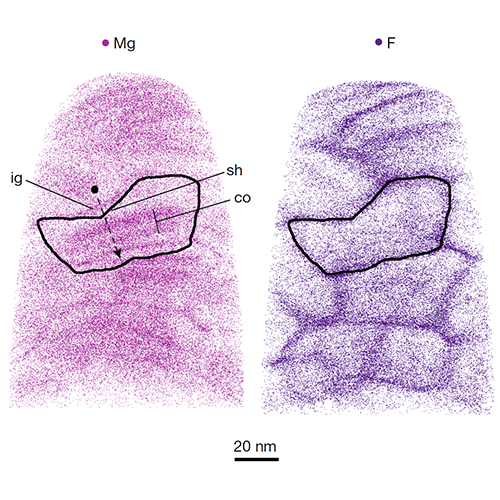 Atom Probe Tomography of Human Teeth. 
APT enables 3D nanoscale quantitative measurements of fluoride and other ions in dental enamel, pointing towards the mechanism by which fluoride protects human teeth against degradation.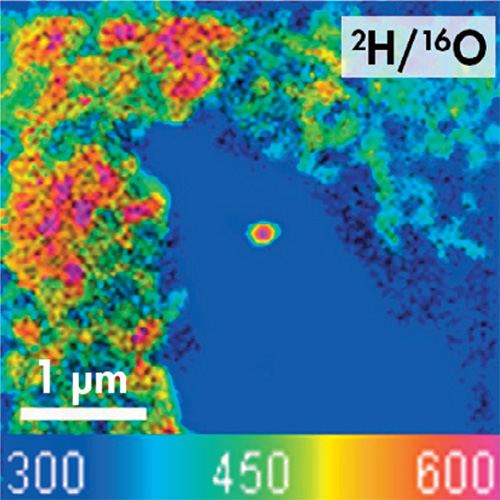 Hydrogen & Deuterium Analysis with NanoSIMS.
From H embrittlement studies to the investigation of alloy oxidation using 2H and 18O tracers, or the mapping of H in plasma-facing materials... NanoSIMS offers superior capabilities for small area depth profiling and 3D imaging of hydrogen.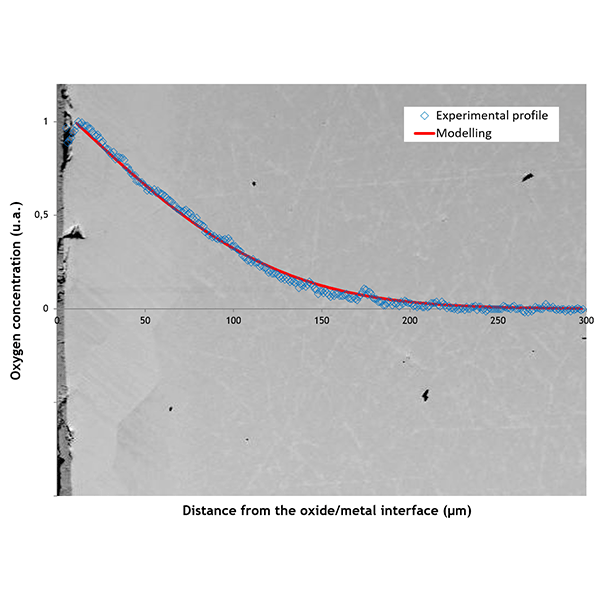 Nuclear: Studying Absorber Rod Oxidation with EPMA. 
Assessing the use of hafnium as an absorber material in control rods, EPMA is used to accurately quantify oxygen concentration variations below the oxide layer.
Watch the IMS 7f-Auto in action!
In this less than 3 minute video: 
> get introduced to the main components that make a powerful Dynamic SIMS instrument;
> see how multiple samples are automatically loaded for overnight analysis (without operator intervention), and how meaningful, reproducible data is delivered in the morning!
CAMECA applications notes & webinars can be downloaded / viewed at no cost. The scientific publications need to be purchased or accessed online from their respective publishers.
Top banner: U, Pu & Zr EPMA quantitative maps by courtesy of F.G. Di Lemma.
Click here to unsubscribe or to change your Subscription Preferences.